During the pandemic, e-commerce is growing rapidly, providing a great opportunity for entrepreneurs to set up shop and begin selling online. That shift is here to stay. However, before you start your e-commerce business, you must first understand how it all works.
Therefore, this article is for people who want to learn the fundamentals of e-commerce. Then, until you read to the end, you will get more insights about e-commerce's future trends to grow your own business.
WHAT IS E-COMMERCE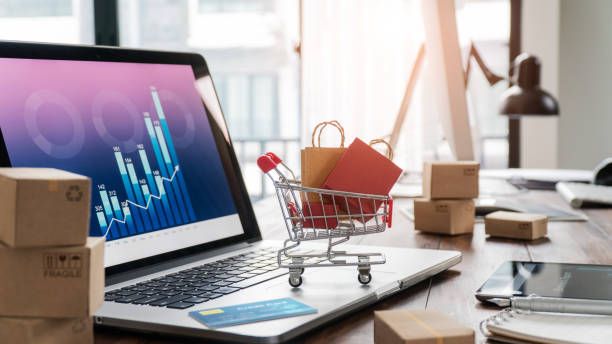 Ecommerce is the process of purchasing and selling tangible goods and services over the Internet. It involves the exchange of data as well as currency to complete a transaction.
This kind of commerce is a part of the larger industry known as electronic business (e-business). When compared to an offline store, running an e-commerce business requires less money in operating costs and gives you access to a global customer base.
TYPES OF E-COMMERCE
In general, e-commerce is an online commercial transaction between a supplier and a client. However, e-commerce can also be divided into six major types, each with its own characteristics.
As a result, before starting your online business, you need to classify a clear business model, target customers, and related factors to identify which type of e-commerce suits best for your services.
There are six fundamental types of e-commerce:
Business-to-Business (B2B)
Business-to-Consumer (B2C)
Consumer-to-Consumer (C2C)
Consumer-to-Business (C2B)
Business-to-Administration (B2A)
Consumer-to-Administration (C2A)
1. Business-to-Business (B2B)
Business-to-business (B2B) e-commerce includes all electronic transactions of goods or services between businesses. This type of electronic commerce is typically used by producers and traditional commerce wholesalers.
2. Business-to-Consumer (B2C)
The electronic business relationship between businesses and final consumers is considered Business-to-Consumer e-commerce. It corresponds to the retail section of e-commerce.
Because of the Internet development, this type of commerce has grown significantly, and there are now many virtual stores and malls that sell a wide range of consumer goods, including computers, books, shoes, cars, food, digital publications, and so on. Consumers also have more product information available on B2C e-commerce. As a result, they can take close consideration and comparison between similar products and make a purchase.
3. Consumer-to-Consumer (C2C)
Consumer-to-Consumer (C2C) e-commerce refers to all electronic transactions of goods or services between consumers. In most cases, these transactions are carried out through a third party, which provides the online platform so that the transactions can be carried out.
4. Consumer-to-Business (C2B)
The traditional sense of exchanging goods is completely switched in C2B where a number of people sell their services or products to businesses that are specifically looking for these types of services or products.
Take Upwork – a well-known freelance hiring platform for example. It was the first company C2B model in which freelancers post their services and clients (businesses) will respond with bid proposals.
5. Business-to-Administration (B2A)
This classification of e-commerce includes transactions between companies and public administration. This includes a diverse range of services, particularly in tax, social security, legal documents and registers, and so on. With investments in e-government, these types of services have grown significantly in recent years.
6. Consumer-to-Administration (C2A)
C2A e-commerce is an engagement in e-business between the government and the end user, the citizen. The communication and transaction between the parties occur on a platform, which assists to simplify administrative work such as filing tax returns and scheduling an appointment using an online service.
Both public administration models (B2A and C2A) are strongly associated with the idea of efficiency and ease of use of government services provided to citizens through the use of communication technologies.
THE EVOLUTION OF E-COMMERCE

Three innovations contribute to the evolution of e-commerce:
With the development of new digital trends, e-commerce becomes extremely convenient for both individuals and businesses. These trends mentioned below are some of the main contributors that gradually move people from normal offline shopping to using e-commerce to boost sales and expand brands.
Personalization: AI and machine learning have made it possible to analyze massive amounts of data and provide personalized shopping experiences. Feedback and dynamic adaptation to changes in consumer behavior helps to improve the overall customer experience.
Omnichannel: The increase of the internet facilitated the development of social networks. According to a Google report, nearly 85% of consumers start their purchasing journey on one platform and finish it on another. This trend triggered the seamless integration of online and offline sales channels, and social and e-commerce platforms
Secured payment: Quick and easy e-cash has made it possible to complete payments without difficulty. For example, a lot of wallet services such as Google Wallet, Apple Pay, and many other mobile wallets are now available on users' smartphones. Increasingly, blockchain technology is also accelerating and securing these transactions, helping customers purchase online safely.
The evolution trends

B2C e-commerce has been and will continue to thrive.
Initially, e-commerce was primarily driven by the business-to-consumer business model, with retail being an early adopter. Aside from novelty, convenience was a significant factor in driving demand. As more players entered the field, the market has become more intense.
In 2022, there were more than 5 billion internet users worldwide, which means that more than half of the world's population is able to access the internet. The fact is affecting not only consumer behavior but also the global economy as a whole. B2C e-commerce will continue to proliferate. The global B2C e-commerce market is expected to reach USD 8,016 Billion by 2030.
B2B e-commerce grows
Because of the pandemic, B2B companies that preferred in-person sales had to look for more digital options. This resulted in an increase in the commerce solutions that redefine buyer-seller interactions. As a result, B2B e-commerce has become far more transparent, efficient, and quick.
According to research, the global B2B e-commerce market was worth $14.9 trillion in 2020, and it is expected to grow to $18.7 trillion by 2027.
CONCLUSION
In conclusion, it can be seen that e-future commerce will be even more vibrant and scalable. To meet the challenges of e-commerce changes, it is necessary to update and prepare.
So do you want to get your business ready for the future? ICTS Custom Software can assist you! We are a proficient software development firm that focuses on cutting-edge technologies and quality improvement.
Click here to learn how our engineering team can help your development project!