[Melbourne, August 15th] - ICTS Custom Software, together with leaders in Vietnam IT Industry, is proud to co-organize the event Vietnam IT Day 2023 in Melbourne, with the mission to foster Collaboration and Innovation in the IT Industry between Vietnam and Australia. The event has successfully taken place on August 15th, 2023, at Mic Drop, Level 5/111 Cecil St, South Melbourne, VIC 3205.
Empowering Future Collaborations
Vietnam IT Day 2023 serves as a platform for Australian and Vietnamese IT businesses to connect, exchange knowledge, and explore opportunities for collaboration.
As Australia's IT sector experiences rapid expansion, estimating demand for more than 1 million tech professionals by 2024, Australian companies seek top-tier outsourcing partners. With its rising IT talent pool, Vietnam offers internationally-standardized services, highly skilled labor, and cost-effectiveness, making it an ideal partner for Australian companies.
Vietnam IT Day 2023 will feature a comprehensive program, including insightful keynote speeches, interactive panel discussions, and engaging networking sessions. The event had 10 speakers in total, discussing pivotal industry topics including: Vietnam IT talent pool, Chatbot with Azure OpenAI, Experiences with AR Products, and How Vietnam IT companies can comply with International and Australian requirements and quality standards? Industry experts, IT professionals, government representatives, and thought leaders from Vietnam and Australia will share valuable insights on industry trends, emerging technologies, and innovative solutions.
ICTS Custom Software at Vietnam IT Day 2023
In addition to contributing to the success of the event as one of the organizers, our COO Ms. Ellen Nguyen gave a presentation on the topic "Introduction to Vietnam IT Talent Pool".
With 10 years of experience in sourcing and recruiting talent for tech companies, she is expertise in talent acquisition, employer branding, and talent nurturing to drive the company's growth and success. This talk spotlighted the prowess of Vietnamese tech talents and the immense value they bring to the global tech ecosystem. It opened new avenues for Australian tech companies to tap into this burgeoning pool of skilled professionals.

The speech was opened with Vietnam's tech landscape so delegates can grasp an overview of what is going on in Vietnam's IT industry. "15 years ago, Vietnam barely had tech companies. Now we have about 67000 technology firms and this number keeps growing. The annual growth rate of the Internet economy is the highest in SEA" said Mrs. Ellen. The rising industries in which tech thrives the most are retail, healthcare, education, and fintech.
In terms of tech talent pool, Vietnam is ranked 2nd in the Asian Pacific on the Worldwide developer skill chart, Top 2 in Best Freelancers Survey just after the USA finally Top 10 in World rank of the Best Developer survey. "The tech talent is also fast growing with a large pool of young and tech-savvy population. What's also important to note is that the age range of developers in Vietnam is 20-34, and the majority have 2 to 7 years of experience. So in case you want to build a team or partner with outsourcing companies, you should consider your demand and the talent supply on the market to structure your development team efficiently in terms of experience and price." expressed Mrs. Ellen.
Download full presentation about "Vietnam IT sector & Tech talent pool"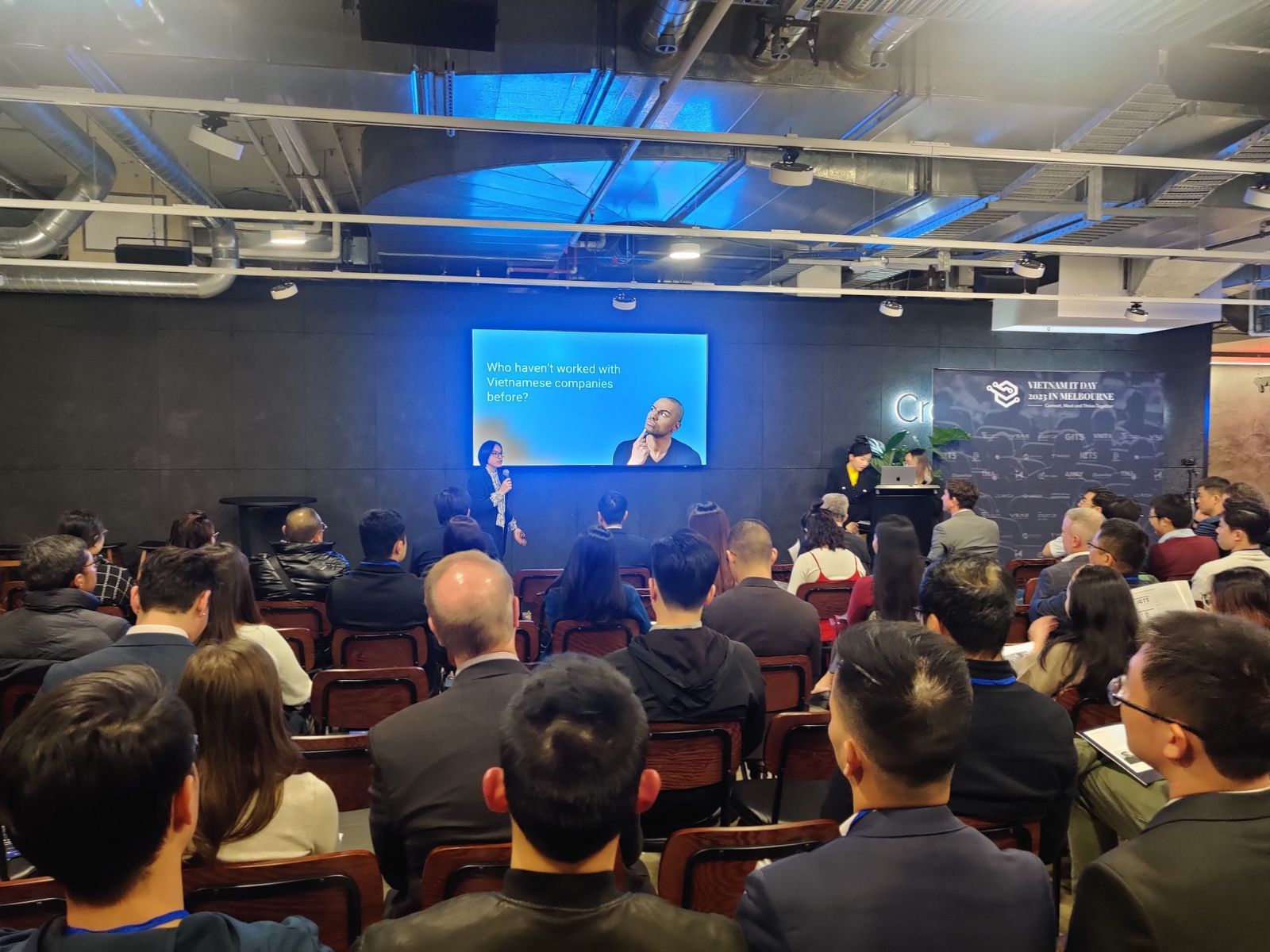 Looking Ahead
Vietnam IT Day 2023 ended with a renewed sense of enthusiasm and a commitment to bridging the gap between two nations through the language of technology. If you are interested in our event in general and Vietnam IT Talent Pool in particular, please visit the official website at https://vnitday2023.gits.group/ or contact us:
Ellen Nguyen
Website: icts.io

Email: ellen@icts.io

Skype: nguyenpminh