Aside from dealing with physical business competition, small & medium restaurants need to consider the situation in the online space as well. Across the globe, several of these small & medium restaurants can be found through social media or search engines. With this, the challenge for restaurant owners is to make their restaurants discoverable amidst this large and vast pool known as the internet. 
This can be done through a number of ways. Some of these are very easy to execute, but it may be important to keep in mind that the desired results may take time to be reaped. 
10 simple tips to make your restaurant be found online in 2022 
1. Add your restaurant to Google Maps 
Google Maps is a tool that could effectively help with digital marketing for restaurants. Including your restaurant in Google Maps would make the restaurant visible when it comes to searches that are map-based. 
When it comes to looking for places and specific locations, Google Maps has become a staple go-to app. On top of helping potential customers find your restaurant, Google Maps even shows the direction on how to get there. 
2. Be part of listings on review websites 
Tripadvisor and Yelp are some of the famous review sites that also offer features on social networking. On these platforms, users can engage by giving ratings or leaving comments. With this, a customer can leave a restaurant review about the customer's overall experience with the restaurant or go deeper into giving feedback about the service, food, or place. 
Utilizing such platforms would be a great opportunity to promote your restaurant. In fact, this promotion goes beyond local customers; tourists may also find out about your restaurant and end up visiting the place. 
3. Set up Google My Business for your restaurant
Google Business for restaurants is an option that can be capitalized on. In fact, Google My Business is one of the most reviewed sites that have remarkably high traffic. The restaurant reviews made in Google My Business show up whenever someone searches for your restaurant or for other available restaurants in your area. Hence, it is important to have good reviews here. Ensuring that the information about your restaurant is correct would also be necessary. 
Moreover, it is free to get listed in Google My Business, so getting listed is not much of a problem. 
4. Be active on social media
It is no question that social media platforms have been rapidly becoming places where business relationships can be formed. Among these platforms are Facebook, Twitter, and TikTok. Through these social media platforms, you can share the business story, incoming events, services, and even the latest offers. Because of the high traffic of these sites, boosting your presence by consistently posting or sharing content would most likely yield desired results.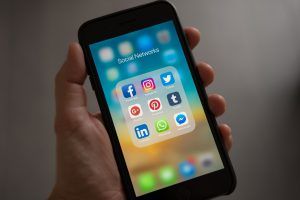 Image from Pexels
5. Have a website and optimize it 
Having a restaurant website that customers and potential customers can visit is essential. Other than having a website, though, it is important for it to be optimized well. Here are some ways to do so: 
Make it friendly for mobile usage 

Include an updated and clear menu 

Put calls to action in place 

Include operation hours 

Offer online ordering 
 

6.

Make use of a restaurant management system 
There are certain restaurant management systems that offer a number of features, such as online ordering and delivery integration as well as booking systems. Capitalizing on this kind of software would not just help you manage your restaurant better but also help you boost your digital presence. 
Other than that, an affiliate system can also be set up for your restaurant. With this, individuals would be given the chance to become affiliates of your restaurant. Commission rates can be set depending on the terms. 
7. Improve SEO 
Search Engine Optimization (SEO) is a key facet of digital marketing. This may not seem important at face value, but investing in SEO actually makes your restaurant more discoverable. These are some ways to improve the SEO of your website. 
Have your Facebook Business, Yelp Business, and Google Business profiles optimized by having the ownership verified and by ensuring that the details (name, address, contact number) are consistent across platforms. 

Motivate customers to leave positive comments of your website. 

Link your website to other websites that are authoritative. This would be helping in giving your restaurant website an SEO boost. 
8. Make contact details clickable  
One small yet extremely effective fix that can be easily implemented in websites is to make their contact details (both email and contact number) clickable. This makes it convenient for customers to reach out to you. Implementing this would reduce time and prevent the frustration that comes with having to manually copy or type in the number in order to contact your restaurant. 
Including this information on each page of the website may not only lead to sales conversion but also improve search ranking. Moreover, it is important to ensure that the website works for mobile users. 
9. Make use of influencer marketing 
If you want to boost traffic and reach a wider audience, influencer marketing may be worth exploring. These days, there are social media influencers who have established a following and credibility for certain demographics or niches. Oftentimes, they have thousands—or even millions—of followers.
If there are any influencers in your area that specialize in food, reaching out to them and extending an invitation to your restaurant may not be a bad idea. You can come into a shared agreement with them for influencer marketing. 
10. Utilize paid ads 
Instead of going for traditional billboards along the roads, restaurants can capitalize on paid ads that are actually more targeted and strategic compared to traditional ads. Because a restaurant business is largely dependent on locale, it may not be necessary to address the entire internet population. Instead, you can focus on local markets. 
Making use of paid ads on social networking sites is one way to do this. You can have an ad campaign run on Facebook and Instagram that would target specific people within your geographical range. Other than that, other demographics can also be included in the targeting. 
Image from Pexels
It is no question how technology has reformed various sectors of business, including the restaurant industry. Hence, it is important for traditional small and medium restaurants to step up their game and enter the digital world in order to provide more competitive services and expand their market. 
ICTS is a custom software development company that consults and provides restaurant owners digitalization solutions for their business, at a reasonable budget.
Contact us and discover what benefits we can bring to your F&B business.